Connect your music pre-save to your custom domain
If you own a domain it can be useful to link it to tunelinx pre-save page to increase your page visits.
Here is the steps to follow to link your custom domain to your pre-save link using Tunelinx.io.
To be able to link your custom domain to Tunelinx you need to have the pro subscription (7.99€/mo).
Link your custom domain
Step 1: Choose the pre-save to link your custom domain to
Click on "Use a custom domain"
You can choose existing linked custom domain from the domain list. If you didn't link a custom domain yet, click the "Add my domain" button

Step 2: Choose your domain
Enter your domain name and click next.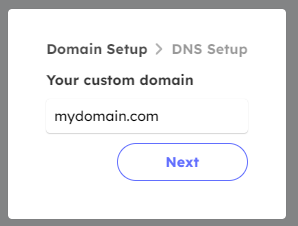 Step 3: Add DNS records
Depending if you want to use a subdomain or a domain will be asked to add either an ALIAS record or CNAME record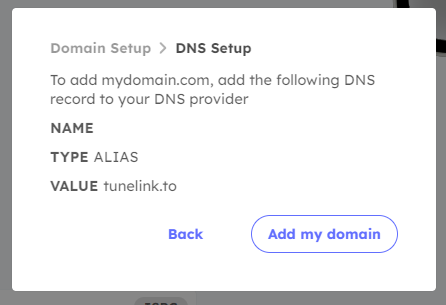 ALIAS are use for root domain, for example, if you want to link mydomain.com you need to use an ALIAS but not every domain provider offer this option so in case it's recommended to link a subdomain instead like the following : link.mydomain.com. Linking a subdomain only requires a CNAME records which should be available in every providers.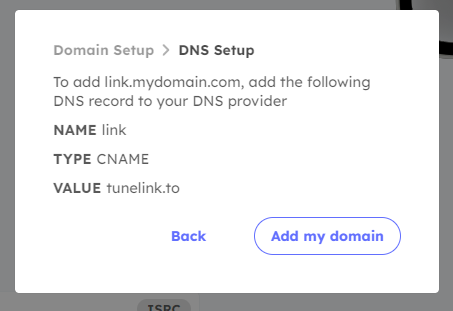 Step 4: Wait for DNS propagation
Once you click Add my domain, you will need to wait for your DNS provider to propagate the records. Once they are propagated you will find the current state of your domain in the settings.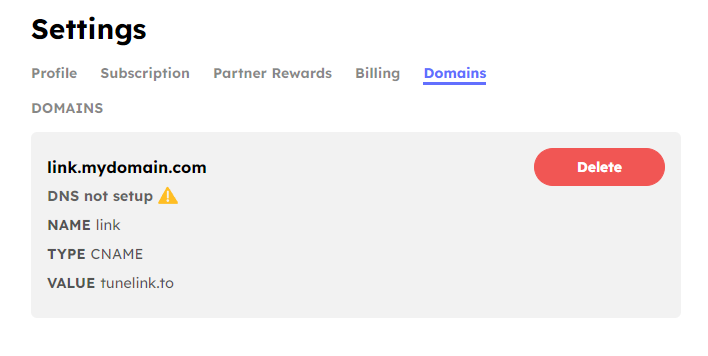 Step 5: Choose the domain from pre-save page
Once ready you can pick the domain from the domain list in the pre-save edit page.